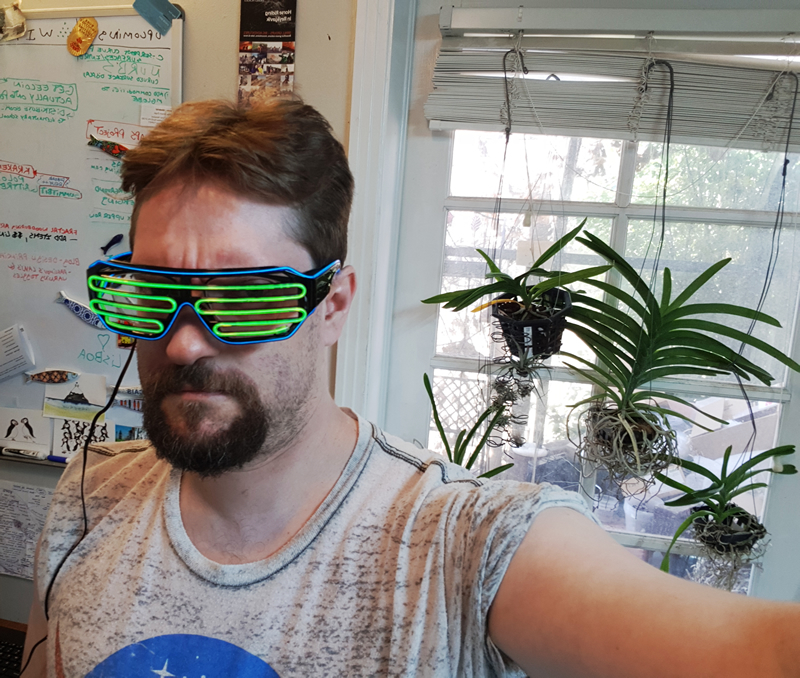 Dr. Ryan Molecke
Welcome to Tectractys, a tech, news, and botanical blog site, run by Dr. Ryan Molecke. I'm here to help you in your flasking journey! My goal is to inspire and teach as many people as possible about orchid flasking, and help lead conservation efforts. My background is in bio-chemistry and computational science, I went to grad school as a research scientist, on a fellowship sponsored by the American Cancer Society (ACS) and the National Institutes of Health (NIH). I have an unending passion for botany and horticulture, it's my way of relaxing and celebrating the beauty of life.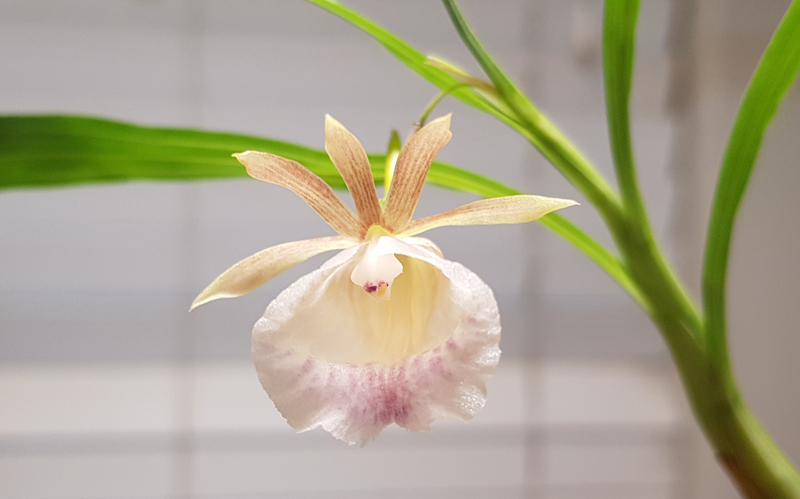 Galeandra Baueri in Flower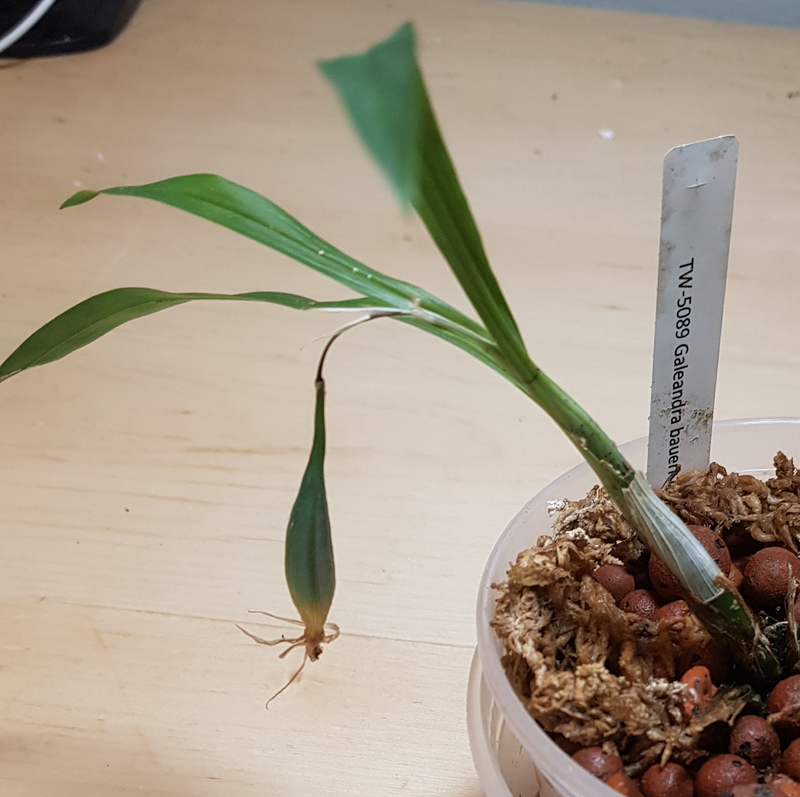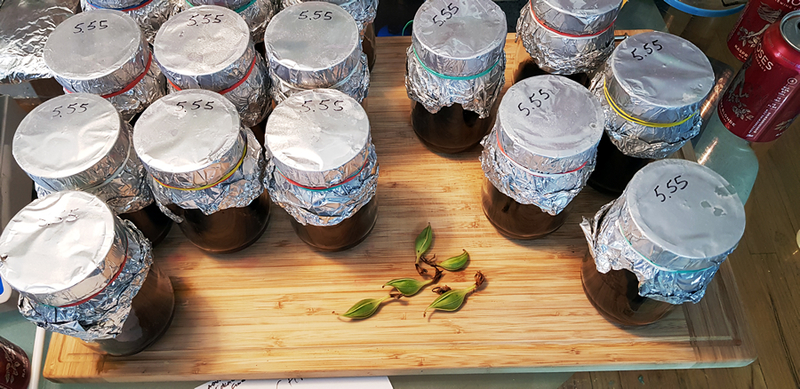 Sterile orchid agar flasks,
with seedpods ready for flasking
Succesfully pollinating an orchid for the first time is a big breakthrough in your orchid cultivation career, congratulations! It took me 15 years before I successfully pollinated a rare orchid for the first time, it was a Galeandra. It's so exciting to find that seedpod growing behind your flower, and to learn that your plant is now mother to thousands and thousands of teeny, teeny seeds.

So you've decided to try flasking at home. Excellent. We are the musicmakers, we are the dreamers of dreams. I'm here to tell you that, with a little knowledge, a few basic materials, and a keen eye towards cleanliness, you can absolutely succeed at home orchid flasking!
Let me provide a short checklist of things to consider starting out with:
22qt Pressure Cooker
(autoclave 1L of agar at a time, 12x 16oz widemouth jars)
Hot Plate Magnetic Stirrer
(absolutely worth the $100, saves you SO much time & effort)
Magnetic Stir Bars
Digital Thermometer
(fits onto the above magnetic stir plate, no extra pieces needed)
1L Pyrex Beaker
pH measuring tool with calibration kit
, which you should CALIBRATE every time you make agar!
High Precision Digital Scale
, that can go down to 0.01g precision, and up to 500+g capacity
Transfer pipettes
(a MUST for adding single drop-by-drops of your pH buffers)
Blunt-Tip Syringes
(perfect for dispensing sterilized seed into the flasks)
Flex-Wrap Silicon Tape
(for wrapping the lids after flasking, to help prevent contamination)
Nitrile Gloves
(I use these when scrubbing and bleaching the jars, before pouring the solution)
Particulate Face Mask
(for working with seed samples, so you don't accidentally breath on them)
Silicon Bottle Brush
(for getting those inner corners of the jars really truly clean during the pre-rinse)
*Disclaimer: I'm an Amazon Affiliate and I make a small commission if you click on these links and then purchase a product, so please DO IT!
Product prices on Amazon are not affected by whether you reach them through an Affiliate Link, I get the commission from Amazon, not from the buyer or seller.


Ok great, so you have all the beginning supplies you need to get started proper.

Lets talk agar, pH buffers, jars/lids, and gloveboxes!

When I talked to Fred Clarke from Sunset Valley Orchids, renowned breeder of cattleya and catasetums, he mentioned to me that he simply used a very standard P668 blend at half strength, with sugars added back in from the dilution process, adjusted to a pH of 5.4 to 5.6. This is an absolutely great beginner mix, which can be used for a wide variety of orchids. Cattleyas, Catasetum, and Laelias go crazy in this mix, and it's a great starting point for a lot of species. The "P" stands for Phytotech Labs, and the 668 is a very standard pre-mixed orchid media recipe that they sell, it comes with colloidal activated charcoal already mixed in, but you DO have to add your own agar. Here's the recipe:


Standard P668* Orchid Medium Agar Recipe

- 1/2 strength Phytotech Labs P668 Orchid Maintenance Medium with Charcoal, Without Agar (13.67 g/L)

- 10 g/L raw sugar (sucrose)

- 5.5 g/L Phytotech Labs A111 Micropropagation Grade Agar

So to make 1L of standard P668* agar, you will start with 1000mL (1L) of water, then add 13.67 grams of P668 powder, 10 grams of sugar, and 5.5 grams of agar agar. Bring your media up to 120ºF, while stirring a LOT (this is where the heated stir-plate comes in handy), to completely blend and heat the agar, to prepare it to go into your pressure cooker. The agar will melt at 120ºF, and the internal termperature of your pressure cooker will be 121C at 15 PSI, so it will still be warming up when it's being autoclaved / sterilized. I do a standard 18min cycle, which means I BEGIN the 18min countdown once the pressure cooker has reached 15 PSI and is releasing a steady stream of vapor (full normal pressure).

Ryan's Mix General Agar Recipe For BOTH Germination and Replates (RMIX / CMIX)

- Phytotech Labs P668 Orchid Maintenance Medium with Charcoal, Without Agar (18 g/L)

- 5 g/L raw sugar (sucrose)

- 25 g/L slightly underripe banana (finely mashed)



- 50 g/L brown baking potato (microwaved until soft, mashed finely, no skins)



- 5.5 g/L Phytotech Labs A111 Micropropagation Grade Agar

- 25-50 ml/L coconut water (for CMIX)

I find that putting my banana / potato through a garlic press before mashing with a spoon gives them a great, finely mashed consistency


Distilled water is best!

So to make 1L of RMIX agar, you will start with 950mL (0.95L of water), then add, 18 grams of P668 powder, 5 grams of raw sugar, 5.5 grams of agar, most of an underripe banana (finely mashed), and 50g of finely mashed brown potato, after microwaving it to soften and then mashing it finely, no potato skins included. Bring your media up to 120ºF, while stirring a LOT (this is where the heated stir-plate comes in handy), to completely blend and heat the agar, to prepare it to go into your pressure cooker. The agar will melt at 120ºF, and the internal termperature of your pressure cooker will be 121ºC at 15 PSI, so it

will still be warming up when it's being autoclaved / sterilized

. I do a standard 18min cycle, which means I BEGIN the 18min countdown once the pressure cooker has reached 15 PSI and is releasing a steady stream of vapor (full normal pressure).

RMIX or CMIX? Should you add sterile coconut water (for CMIX instead of RMIX)? YES probably, for most species, but maybe not phals or paphs because it can (maybe) lead to proliferation in those species. Proliferation is when your orchid seeds don't develop into normal protocorms, but instead grow into an semi-undifferentiated replicating mass sort of like a tumor-looking thing, called a "Protocorm-Like-Body" (PLB). These PLBs can be valuable because they can be split, indefinitely, and grown out into many many plants which are all genetic clones of each other, so they are used sometimes in professional flasking labs producing many plants, and they want an exact color variation for mass-production and sales, usually in phalaenopsis but also vandas. Ok, so to add coconut water, add 50-100ml of the coconut water to your 950mL agar mix. This is a great growth hormone for most epiphytes!



So now, I actually just mostly use CMIX at pH 5.4 for most of my germination AND replates recently, and at 5.8 for some phals and phrags. Adult epiphytes really seem to like it, and grow well, and the extra bit of growth hormones seems to help the protocorms turn green and grow well early on, also. My mix is almost always a little low in pH and I bring it up carefully with a little baking soda diluted in water, and a calibrated pH meter.





Pouring and Autoclaving the Agar

When you pour the agar, do not close the lids super-tight, really just tight enough to barely make a seal, then cover them and wrap them in aluminum foil, and rubber-band the foil onto the top of the jars. You want air to be able to flow OUT of the jars as they heat up in the pressure cooker, and then back INTO the jars as they cool down. The aluminum foil is mostly to help protect from germs or fungal spores coming INTO the jar, during the cooling off period. Once the jars are cool AND ONLY ONCE THE JARS ARE COOL, then you will tighten the lids, and let the agar sit for 2-3 days before using it, to make sure it's really sterile. Don't take off the aluminum foil until they are ready to use in your glovebox (or flow hood).

IMPORTANT: If you accidentally tighten the jars BEFORE putting them in the pressure cooker, they can EXPLODE INSIDE!!! This is bad. More likely what will happen is that the plastic lids will pop off, possibly with some force, and make a huge mess everywhere, ruining the batch.

ALSO IMPORTANT: If you accidentally tighten the lids onto the jars WHILE THEY ARE STILL HOT, they can IMPLODE!!! This is also bad. More likely what will happen is that the lids will "suck" onto the jars with incredible force, possibly distorting inwards, and they will become ATTACHED to the jars as if tightened on there by some sort of hulk-like superhero, and you will not be able to remove them without straps, generally ruining the batch.

During the COOL DOWN of the pressure cooker, once you have reached 18 minutes and turned off the heat, it's desireable to bring the temp down quickly enough so that you can give the flasks a final stir (via agitation) before it cools, because the ingredients will separate to some extent in the flasks during the autoclave process. So, let out steam in controlled bursts of 8-10s from the pressure cooker release valve, every few minutes, until the pressure indicator drops and it is safe to open. It usually takes me around 15-20min to heat up before reaching pressure, 18 min cook, and then another 15-20 min to release steam and cool down. I take the jars out with hand gloved in a welders heat glove, DO NOT TIGHTEN THEM RIGHT AWAY, and give them a good circular agitation to re-stir the contents before setting the jars down, to let the agar cool and solidify for at least 8 hours before trying to tighten or move them.


UPDATE: I have switched to simply autoclaving the agar in one big bottle, then pouring it into polypropylene "deli cups", inside the flow hood. This greatly reduces the time of cleaning the reusable jars, and the waste and cost of the aluminum and rubber bands. I simply soak the plastic deli cups in bleach-water and stack them in the flow hood a few minutes before the agar is ready to come out of the flow hood, and I give it a good 10 minutes to cool before I pour it. So much faster and I get almost no contamination :)


Standard pH Buffers

- pH UP (ammonia OR baking soda)

For ammonia (NH3): You can buy this at your local drugstore. Dilute the ammonia around 50% in purified water, and add DROP BY DROP as you measure the pH, as needed. DO NOT use potassium hydroxide (KOH) as your pH UP buffer, because it will mess up your potassium levels and make them too high.

For Baking Soda: get it in the baking aisle at your supermarket. Just put some in cold water, and add it drop by drop. Not too strong! Works like a charm.

- ph DOWN (muriatic acid OR citric acid)

For muriatic (hydrochloric) acid: You can find this at Home Depot, I'll let you figure out (ask them) where they store it! It's NASTY NASTY stuff, I keep only small bottles in my house and store the rest in the garage in a safe, dry, very safe, very dry place. Dilute the muriatic acid in water, down to like only 10% or 20% acid, it's very strong so you don't need much. Add this buffer solution DROP BY DROP as you measure the pH, as needed.

For citric acid: It's easy to buy on Citric Acid on Amazon in food grade bags. This is probably an easier option than muriatic acid, lol.

What is the best pH for your orchids? The guys at Phytotech Labs will tell you they usually adjust to 5.4, while Fred Clarke says 5.4-5.6 for most species. 5.4-5.6 is a perfectly good range for most species, and it should be your starting point. I've had success with phalaenopsis a little higher, at 5.9. For terrestrials, you also want to be a little less acidic, so around 6.0 is great.

IMPORTANT: If you FORGET TO ADJUST THE PH, and just go on making your agar and then start putting it in the jars, putting on the foil, then autoclaving it, and letting it set, then when you get to the final labelling step where you label the jars with what agar, what pH, and what day you made the agar, you will feel very regretful at having RUINED THE BATCH and having to start all over again!
Heating Stir Plate (1L water)
Ready to add ingredients
Did you remember to ADJUST THE pH
BEFORE you poured the agar?
Jars & Lids

For the valuable "mother" flasks (flasks from which replate flasks will be produced), which you will be producing, I adore the widemouth 16oz glass culture vessels from Phytotech Labs. These come with polypropylene (#5) plastic lids which can withstand the pressure-cooking well. You can also simply find some mason jars, and some fitting polypropylene lids, just on Amazon or eBay, but if you are making an order from Phytotech anyhow, might as well pick up the good widemouth ones with fitting lids. My average expenditure on these nice glass culture vessels is $2-3 / jar, so it's not a major expense, but it does add up. I've been collecting mason jars when I can find them on special discount in stores, too. This will be your new life, hoarding jars



For replates, and just a cheaper option in general, you can go with polypropylene "soup cups" used in delis, I find the 12oz option to be nicer than the 16oz option, but you have to be a little more careful pressure-cooking these things, they can melt if you are not careful adding enough water, or if you let them go too long! The plastic deli cups do have a nice big footprint for plenty of seed to happily grow in, but that also means less of them will fit into your pressure-cooker at a time. This is why you should also buy another pressure-cooker, of course.

Before you pour the agar, it's important to REALLY TRULY wash, then BLEACH, then rinse the jars, and turn them over onto a paper towl and let them dry out for a few minutes. This is a pre-sterilization routine, so your goal is to remove as many germs and fungal spores as humanly possible from those jars and lids, before you pour the agar. You won't be 100% successful, but with good practise, the autoclave will get you that last final step towards a truly sterile environment, for your babies to live in, inside that flask.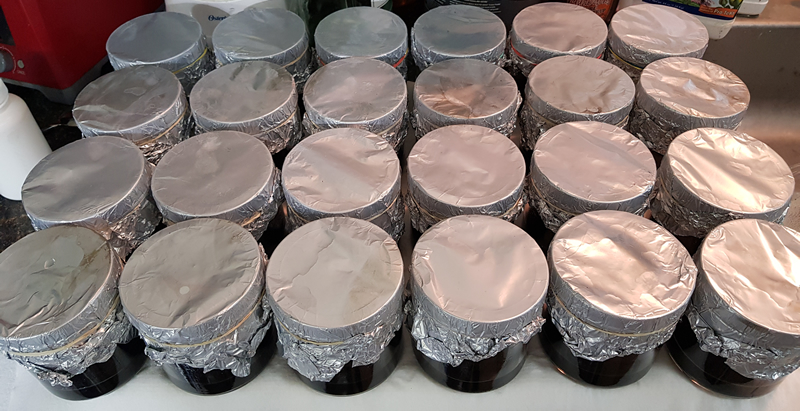 Once cooled, the flasks are tightened and moved to a cool, dark, dry shelf
to sit for at least 2 days to make sure they remain sterile
before flasking the seedpod

What About the GloveBox?

A great glovebox can be found at Target, with already-attached inner (blue) foam lining that will seal the box airtight. Try to find that one if you can, makes things so much easier! If you have to foam-seal your own box, a good foam is the tape that they use to insulate windows, and you should hot-glue it into the lid securely. You'll need BIG tube components to fit your arms in, but also small enough so that you can get some good long rubber gloves securely wrapped onto, on the inside, so go scrounge at your local hardware store. You'll want two pieces for each arm, for the inside/outside and they should screw together. You can cut the holes to fit with a dremel tool. Here's a pic of mine: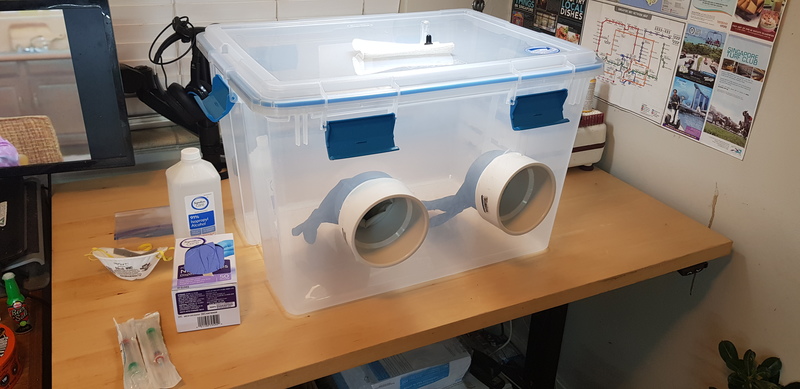 Some people like to put the lid part as the bottom instead of the top. I found it more intuitive to do it this way. Besides, you'll be building a laminar flow hood soon, right?

Moving on UP, to a LAMINAR FLOW HOOD!!!
Once you have succeeded at flasking some seeds and you have done your first replates in the glovebox, you will get frustrated at the difficulty of working in a glove box, probably. You can invest in a nice laminar flow hood, or build your own. Here's a pic of our latest setup here at the Tectractys, LLC flasking lab, run under auspices of the Denver Hanging Gardens project!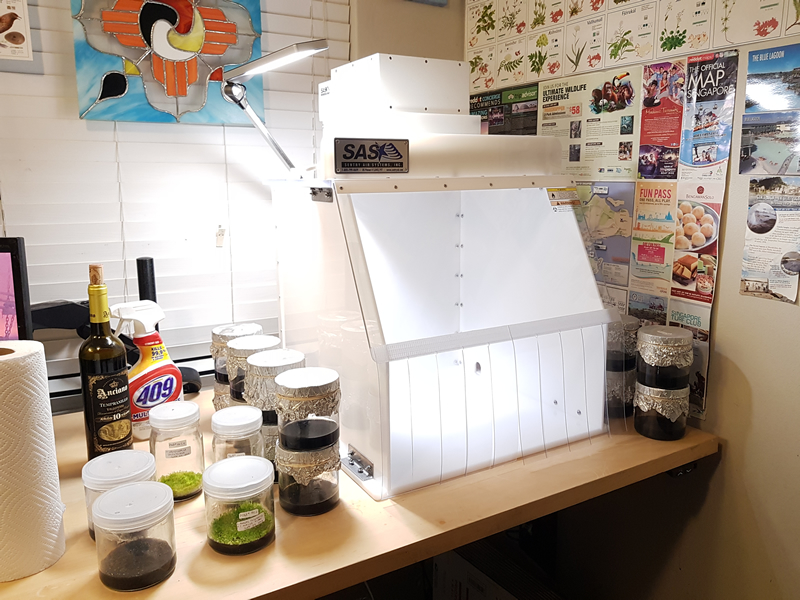 If you have a specific species and you are interested in making a more specific recipe, check this Orchid Seed & Tissue Culture
Media Recommendation Guide from Phytotech Labs, for reference.

Also feel free to reach out to us here at Tectractys, via email, at info (at) tectractys (dot) com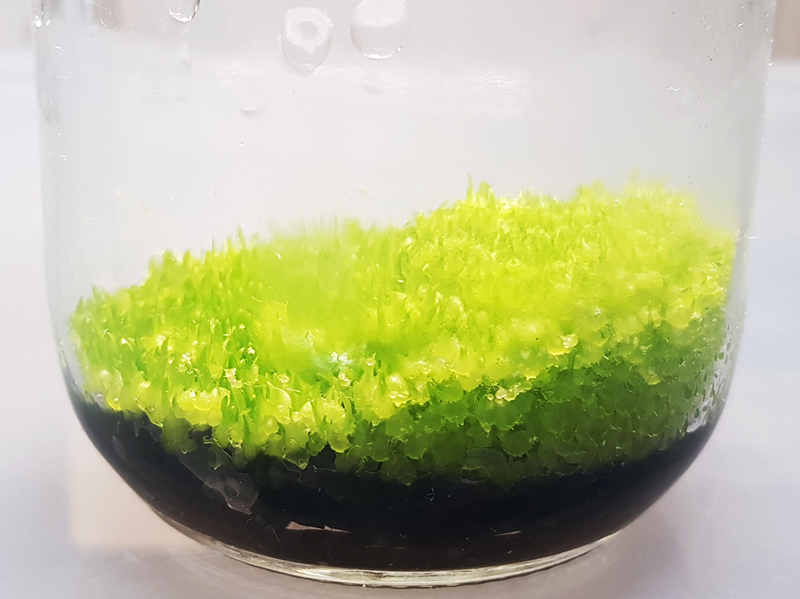 Myrmecophila Galeottiana "mother" flask
grown on p668* media at 5.4 pH (10 weeks old)
before replating (above)

after replating (below)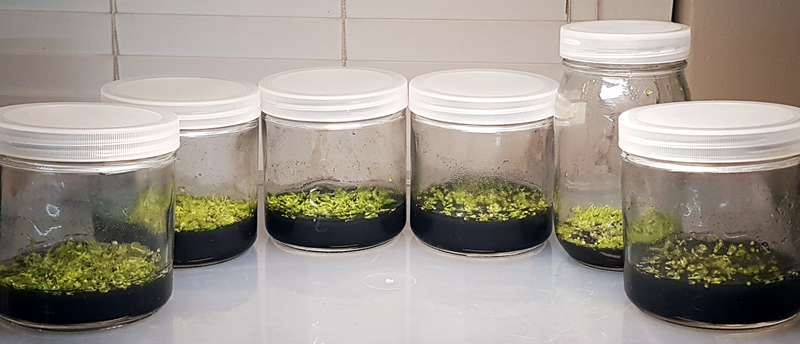 The vaunted "orchid caviar" - you can make it!
That's all for now, please check back soon for another installment, where I'll talk about how to flask the seed after sterilization with hydrogen peroxide, and also how to do "green pod" flasking with alcohol flame sterilization. Thanks for visiting!

Cheers~
Ryan Molecke