Scientists discover animal that doesn't need oxygen to live Science & Medicine Blogs

·

Nov 14, 2021

by

Big Think




In the time it takes you to read this article, you're likely to breathe a few dozen times. Some animals don't breathe as often, and they don't require nearly as much oxygen. The Loggerhead sea turtle, for example, can take one breath and stay underwater for about 10 hours.



What is the Nuclear EMC effect? Scientists shed light on a physics-defying mystery Science & Medicine Blogs

·

Nov 13, 2021

by

Inverse




Nuclear science is many things: it's powerful, it's potentially dangerous, and it's ultimately still not totally understood by scientists - at least when it comes to its constituent parts. Controlling the splitting of atoms to fuel a nuclear reaction is old hat these days, but while scientists understand how these reactions take place what they don't understand completely is something much more fundamental: the behavior of protons and neutrons.



Mysterious radio waves are radiating from an unknown object at the heart of the Milky Way, astronomers say Science & Medicine Blogs

·

Nov 13, 2021

by

Business Insider




Astronomers detected mysterious radio waves from the center of the galaxy that vary dramatically and seem to shut off at random. The waves' origin is unknown, so they hint at the existence of a new type of celestial object. The signal doesn't look like the kind that comes from stars, planets, or even dead stars.



Scientists use olive oil to discover new universal physics law Science & Medicine Blogs

·

Nov 13, 2021

by

Big Think




The dressing in your salad might redefine science if you look carefully enough. Researchers in the Netherlands used a drop of olive oil to discover a new universal law of phase transitions. The research was carried out by the Interacting Photons group of the AMOLF institute, which focuses on fundamental physics.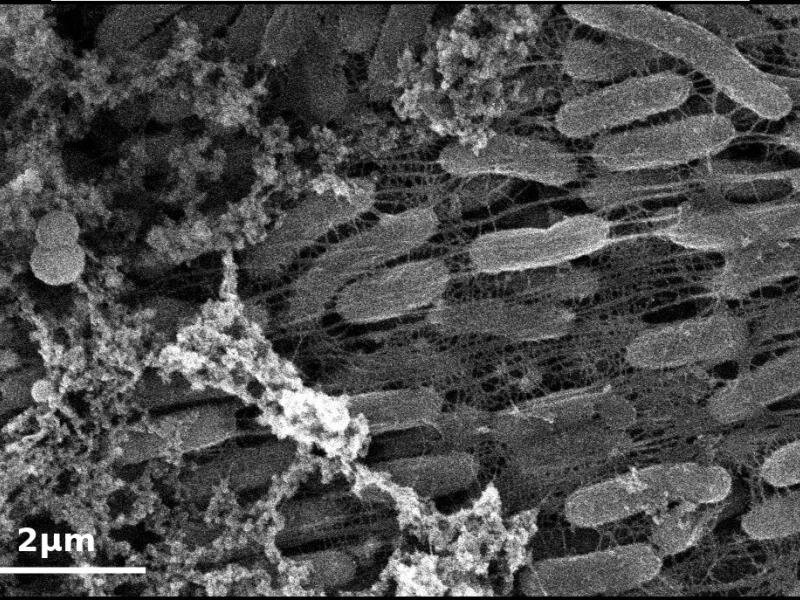 Discovery of metal-breathing bacteria can change electronics
Researchers discovered an unusual property of a bacteria that can "breathe" in some metal and sulfur compounds and create materials that can improve electronics, energy storage, and medical devices. Specifically, the anaerobic Shewanella oneidensis bacterium can produce molybdenum disulfide, a material that can transfer electronics as well as graphene, explains the press release from Rensselaer Polytechnic Institute, whose team of engineers carried out the research.
Nov 13, 2021
by
Big Think
Science & Medicine Blogs
CT scans of shark intestines find Nikola Tesla's one-way valve Science & Medicine Blogs

·

Oct 16, 2021

by

Big Think




Considering how much sharks are feared by humans, it is a bit of a surprise that scientists don't know much about the predators. For example, until recently, sharks were thought to be solitary creatures searching the seas for food on their own. Now it appears that some sharks are quite social.



SARS-CoV-2 Spike Impairs DNA Damage Repair and Inhibits V(D)J Recombination In Vitro Science & Medicine Blogs

·

Oct 13, 2021

by

MDPI




Severe acute respiratory syndrome coronavirus 2 (SARS-CoV-2) has led to the coronavirus disease 2019 (COVID-19) pandemic, severely affecting public health and the global economy. Adaptive immunity plays a crucial role in fighting against SARS-CoV-2 infection and directly influences the clinical outcomes of patients.



Here's the most complete map of black holes ever created Science & Medicine Blogs

·

Jul 29, 2021

by

Jak Connor - TweakTown




A German-made space telescope, eROSITA, has collected enough data that astronomers have pieced together the most detailed map of black holes. Published Wed, Jul 28 2021 5:32 AM CDT In less than two years, a German-made space telescope has managed to discover more than 3 million " new" objects.



Deadly Spider Venom Could Repair Hearts and May Save Heart Attack Victims Science & Medicine Blogs

·

Jul 18, 2021

by

Loukia Papadopoulos - Interesting Engineering




Spider venom may be deadly, but it comes with some advantages. In the past, research has found that venom could alleviate pain without causing any adverse side effects. Now, new research out of Australia's University of Queensland is indicating that the venom of the Fraser Island (K'gari) funnel-web spider can help prevent damage caused by a heart attack and even extend the life of donor hearts.