Fed Chief Powell, other officials owned securities central bank bought during Covid pandemic Finance News

·

Sep 17, 2021

by

Steve Liesman




(Editor's note: This story has been updated to reflect new information. Fed Chair Powell owned the municipal bonds in question in a joint account over which he had control. Due to incorrect information provided by the Federal Reserve, CNBC reported initially that Powell owned the munis in a family trust over which he had no control.)



Rand Paul Warns Fauci About Lying, Then Lights Him Up Over Funding Wuhan 'Gain of Function' Research World News

·

Sep 06, 2021

by

by Kyle Becker




Senator Rand Paul once again lit into Dr. Anthony Fauci, Director of the National Institute of Allergy and Infectious Diseases, at a Senate hearing on Tuesday. The Kentucky senator warned the doctor about the criminal implications of lying to Congress before confronting him on evidence that NIAID had indeed funded 'gain of function' research at the Wuhan Institute of Virology in China, which some believe to be the source of the COVID-19 outbreak.



DHS Quiet on 'Remain in Mexico' Restart After Supreme Court Order Politics News

·

Sep 02, 2021

by

The Epoch Times




Nine days after the Supreme Court ordered the Biden administration to restart the Remain in Mexico program, no information is available on new enrollees, and border agents are saying the program hasn't yet been reinstated. The program, also known as the Migrant Protection Protocols (MPP), was launched during the Trump administration and terminated by President Joe Biden on his first day in office.



Law professor sues George Mason University over 'bizarre' COVID vaccine mandate USA News

·

Aug 09, 2021

by

Fox News




Todd Zywicki, a professor at George Mason University's Antonin Scalia Law School, is suing George Mason University over the university's COVID-19 vaccine mandate, arguing that he already contracted the novel coronavirus and believes he is protected due to natural immunity.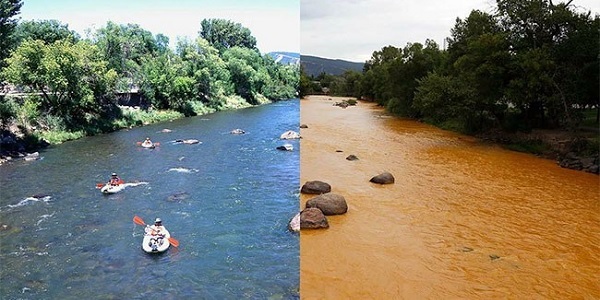 EPA sued over Colorado mine catastrophe
Health Money Politics U.S. WND News Center WNDAgency accused of confiscating property and keeping it By Bob Unruh Published August 7, 2021 at 3:38pm The Environmental Protection Agency has been sued for taking over property adjacent to the 2015 Gold King Mine catastrophe in Colorado to stage cleanup equipment and projects, and keeping it, never paying for it or even for renting it.
Aug 07, 2021
by
Bob Unruh
Environment News
Twitter Suspends Accounts Linked to US Election Audits Tech News

·

Jul 27, 2021

by

Newsmax




Twitter, assailed by some critics as hostile to conservative voices, has apparently imposed a ban on those seeking to audit 2020 presidential election results, including some involved in the first-of-its-kind forensic audit in Maricopa County, Arizona.



Parents Protesting CRT at Loudoun County School Board Meeting Declared Unlawful Assembly - Sheriff Deputy Makes at Least Two Arrests (VIDEO) USA News

·

Jun 22, 2021

by

Cristina Laila - Gateway Pundit




Virginia - Parents protested Marxist, anti-American Critical Race Theory (CRT) at a Loudoun County School Board meeting Tuesday night. Sheriffs declared an unlawful assembly and some parents refused to leave right away. At least two arrests were made Tuesday night. The Loudoun County school board ended public comment so the anti-CRT protesters booed them.



Cedar Point's $20 Wage Has Negative Ripple Effect in Ohio Finance News

·

Jun 14, 2021

by

Eric Mack - Newsmax






Newsom Squirms as Judge Strikes Down Calif. 'Assault Weapons' Ban Politics News

·

Jun 11, 2021

by

Tyler O'Neil - PJ Media




On Friday night, a federal judge struck down California's decades-long ban on "assault weapons," ruling that the ban violates the Second Amendment as understood under the precedents of District of Columbia v. Heller (2008) and United States v. Miller (1939). "Under no level of heightened scrutiny can the law survive," U.S.